SPA
Paradise Spa Dogo heals your mind
01
INDOOR BADE POOL
A water therapy pool made based on the Bade House in Germany. It is a health care spa facility developed for the prevention, treatment, healing of various diseases and health promotion through using hot spring water and aqua programs such as aqua aerobics and aqua yoga are offered.
Use of Bade Pool
You must be 140cm tall or more.
Please do not enter Bade Pool within 30 minutes after meals.
Please take shower if you used make-up, sunscreen, or oil before using the bade pool.
It can be dangerous for elderly and pregnant women, so please bring someone to accompany you.
Do not play pranks or dive.
Compliance for Use of Bade Pool
Be sure to wear swimwear. (Swimming cap is optional)
Infants and children must be accompanied by a guardian.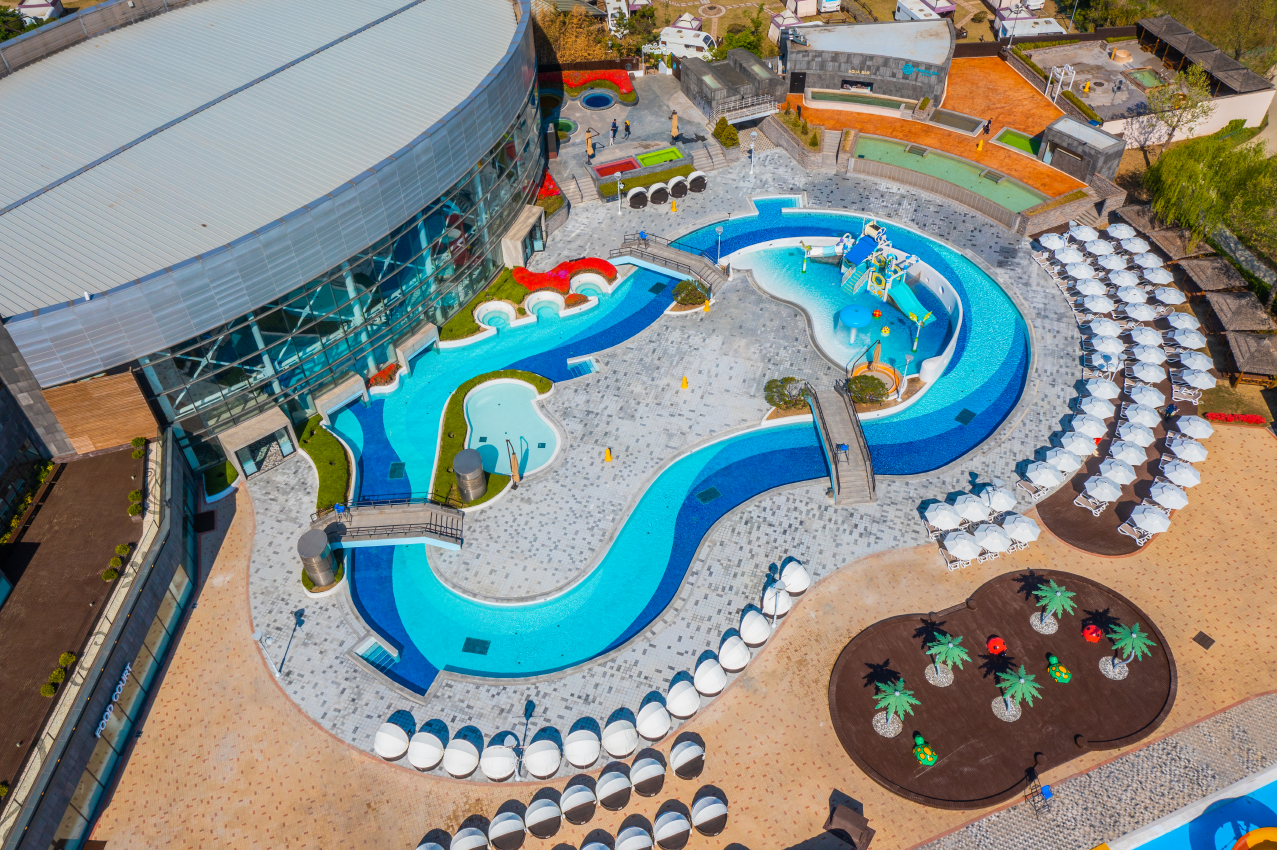 02
Outdoor Lazy
River
A space where you can enjoy swimming in nature.
It is 150m long with a flow rate of 1m per second. It has a variety of themes for each course and is connected directly to the indoor and outdoor areas, minimizing moving traffic.
It is open all four seasons so you can enjoy cool water during summer and warm water during winter.
04
Outdoor Spa
The outdoor spa, which is connected to the event spa, offers a wide range of services including the Infinity Spa, the Aqua Bar, and the body temperature preservation room, where you can enjoy romance and healing through nature.
Infinity Spa
You can see the outdoor spa facilities at a glance and enjoy the natural sunshine and relaxing swimming.
Body temperature preservation room
Located at the back of the Infinity Spa, you can keep your body temperature warm between swimming excursions.
Fire Place
Fire Place, located in the open-air facility, is where you can feel warmth even in winter, and you can enjoy resting facilities such as the Cypress bath and Sunbed amongst your surroundings.
05
Kids Land
This is a place where you can enjoy exciting water fun while being healthy in the natural environment.
It is a water playground where children can enjoy a safe and pleasant water play filled with fun facilities such as a slide and a cup fountain.
Kids Land is available all four seasons.
06
Wave Pool
This is Korea's first sulfur spring wave pool so you can enjoy mysterious coastal waves with an exotic atmosphere.
It is available everyday all four seasons, runs from 10:00 to 21:00 on weekends, but has shorter hours on weekdays.
(However, it is in operation from 10:00 to 21:00 every day during the peak season, and may not be operated depending on weather and on-site conditions)
It is located right next to the body temperature preservation room, so you can keep your body temperature warm between areas.
Use of Wave Pool
Please wear a life jacket regardless of height.
Wave pool depth is over 1.8m, so pregnant women, elderly people, and children must be accompanied by a guardian.
Do not use tubes /Do not dive to prevent safety accidents.
Do not wear easily lost or accident-prone accessories (earrings, glasses, sunglasses, etc.).
It may not be available if facility inspection and water purification are necessary.
Please actively cooperate with the guidance and orders of the safety guard.
Patients, drinkers, etc. may be restricted from use.
We are not responsible for accidents caused by personal carelessness.
Avoid dangerous behaviors as they may cause injury due to carelessness during the motion of the waves.
Do not use for a extended periods because there is a risk of accidental body temperature drop. Please use the body temperature preservation room and the event spa nearby.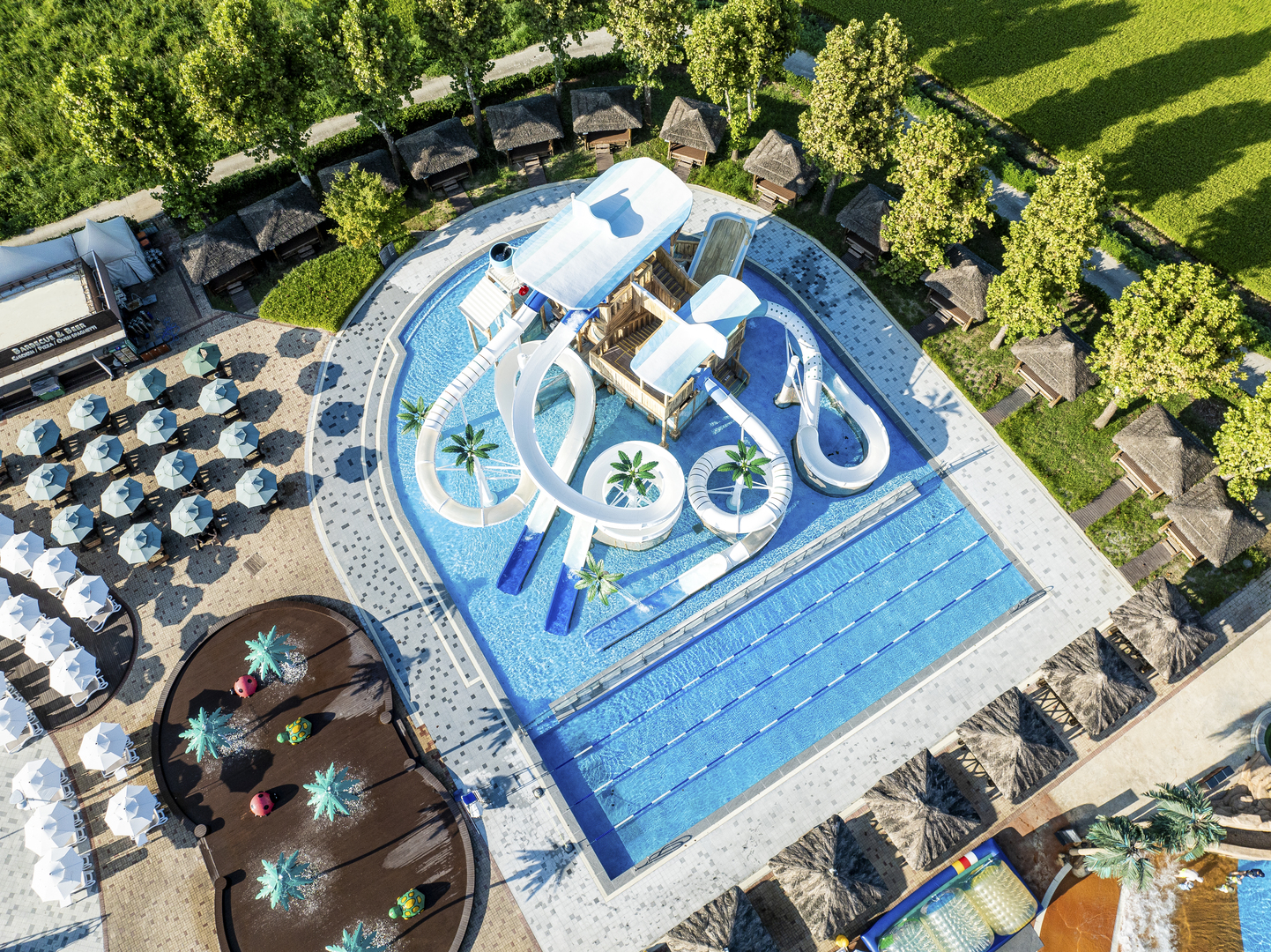 07
Aqua Play & Regular Pool
Aqua Play
This is a facility where everyone from children to adults can enjoy swimming.
It is a water playground filled with fun facilities such as numerous slides (5 kinds) and a cup fountain pouring down cool water.
Regular Pool
This is a 25m long, 1.4m deep, 4-lane regular pool where the whole family can enjoy swimming.
It is open every day during the summer season (including peak season) and weekends during the off season (May, June, and September). It is not available the rest of the year. (However, it may not be available at various times depending on weather and on-site conditions.)